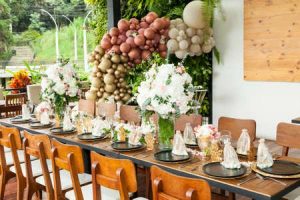 With Halloween now solidly in the rearview mirror and the temperatures dipping, Thanksgiving is rapidly approaching. For many, it's a day where families and loved ones gather to share food, laughs, and good times.
Often, one person or immediate family will host the entire extended family or a larger group of loved ones for the dinner. It's on the guests then to decide what to bring, which can become especially complicated if the host is preparing all the side dishes. You could always try to make a dessert and hope no one else is bringing something too similar to your choice.
But if you want to stand out while also bringing something the host will appreciate, choose flowers. Here's why:
You'll Stand Out
If the main course and most side dishes are accounted for, most everyone else will try to bring drinks or desserts. There will be more than enough beverages and pie. In fact, if there's too much, you might be taking the apple pie you worked so hard on back home with you. But a nice bouquet of flowers will always be used and appreciated.
Adds to the Décor
The host of the party will be busy cooking and preparing the house for guests in the days leading up to the party. They may not have as much time to consider décor. A nice bouquet of fall-themed flowers can act as a perfect centerpiece for Thanksgiving dinner.
A Great Way to Say Thanks
Hosting a large group for Thanksgiving dinner is not easy. It requires hours of shopping, preparing, cooking, and eventually quite a few dishes and a good amount of tidying up. Flowers are a nice way to say thank you to the host for all their hard work and the wonderful time you had. Long after all the leftovers are gone and the dishes have all been cleaned, those flowers will brighten up the dining room or kitchen.
If you're looking to buy the perfect flowers for your loved one's Thanksgiving dinner, Dallas House of Flowers can help you do just that. Feel free to browse our selection or contact us with any questions or concerns.