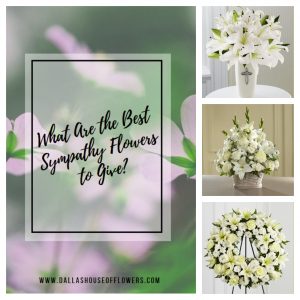 Sympathy flowers are a traditional way to express your condolences to grieving family, friends or coworkers. Sympathy flowers let mourners know that they are in your thoughts while consoling them with natural beauty.
If you're wondering what kind of sympathy flowers are best to give, here's our guide:
Lilies
As a symbol of renewal and rebirth, lilies give hope to the grieving family and are particularly appropriate for religious services. Consider the FTD Faithful Blessings bouquet, a striking display of pure white lilies.
Roses
Bringing fresh-cut white roses to a funeral ceremony is a welcome symbol of comfort and condolence. You could also consider yellow roses, which typically express friendship, or peach roses, which connote sincerity and gratitude. The FTD Peaceful Passage arrangement combines white roses with other traditional sympathy flowers like white gladioli, chrysanthemums and carnations.
Chrysanthemums
In Europe, chrysanthemums are traditionally placed on graves, and in the United States, they are often viewed as an expression of support. Sending these blooms as sympathy flowers combines both meanings.
Wreaths
Try a wreath to send to the funeral home, where it will likely be set up on an easel next to the casket. Greenery interspersed with white flowers, as in the FTD Treasured Tribute Wreath, is always an elegant choice.
If you're in need of a sympathy bouquet to give to a friend, family member or colleague, browse the wide selection of beautiful and comforting sympathy flowers at Dallas House of Flowers. You can also call us toll-free at 1-800-873-0917 to find out how we can help you express your condolences with a bouquet of sympathy flowers.