Fall florals are a great way to show off some of the season's best colors and hues. Whether you focus on incorporating fall florals or adding vivid leaves and berries as accents, your thanksgiving centerpiece is destined to stand out. Red, yellow, orange, purple, and brown are all common colors used in your fall flower arrangements.
Let's look at a few options you can add to your arrangement this Thanksgiving: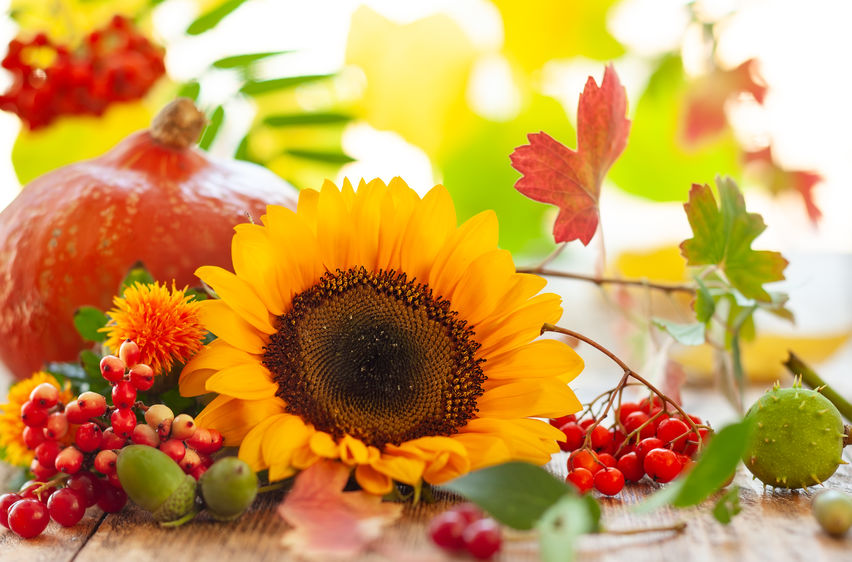 Adding Peaches and Pink Flowers
Even though pink isn't a typical fall color, it still looks beautiful when mixed into your fall arrangement. Pink is a great accent color when paired with orange like in our Falling for Autumn Bouquet or mixed with yellow flowers like our Giving Thanks Candle Centerpiece.
If you're planning on sticking to mostly pink florals, just make sure you're adding extra greens and some brown accents to make your bouquet feel more rustic for fall.
Marigolds
Marigolds are one of the best fall florals to include in your display. They come in a few shades of yellow and orange. They look great on their own arranged in a monochrome bunch or used as an accent flower in an arrangement.
Chrysanthemums
Mums are the flower for the fall. They come in a wide variety of colors, so you are sure to find one that will match perfectly in your display. Chrysanthemum is also a symbol of loyalty and love and is believed to represent happiness, love, longevity, and joy, which will be great to have on your Thanksgiving table.
Sunflowers
Yellow often represents feelings of happiness and joy, which is why sunflowers are often incorporated into Thanksgiving flower arrangements. Sunflowers will help warm the hearts of your guests and create a lasting impression. Add a centerpiece with sunflowers to your table to create a positive atmosphere this Thanksgiving.
Carnations
Coming in a wide variety of colors, including yellow, purple, pink, green, white, and red, carnations are a perfect way to celebrate Thanksgiving. Carnations make a lasting impression in your bouquet because they can last a very long time once they're cut.
Ordering a Centerpiece for Your Thanksgiving Table
At Dallas House of Flowers, we have the best fall flower arrangements for your Thanksgiving centerpiece. Whether you're purchasing for yourself or sending it to a family member, we have stunning options. Shop our online autumn collection, and give us a call at 800-873-0917 with any questions!