At any formal event, you'll notice flowers displayed as centerpieces and décor. However, there is still another way flowers are displayed that, to this day, even leave people a little confused. Corsages and boutonnieres are worn for weddings, proms, graduations, as well as other formal events. These flowers are used to identify a group of people or to honor someone. Often, people question how you're supposed to incorporate boutonnieres and corsages during your special day. If you have an event or a special day coming up soon, here's everything you need to know about boutonnieres and corsages.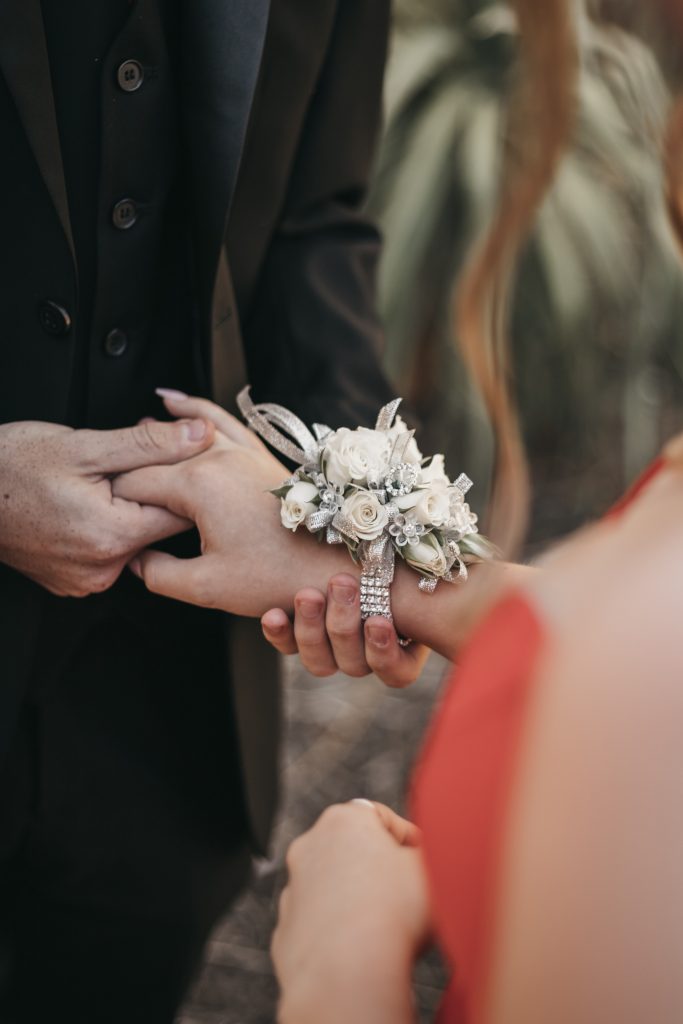 What are Corsages and Boutonnieres?
A corsage is a small bundle of flowers that are attached to an elastic band that slides onto the wrist. The focal flowers are complimented by greenery and ribbons and can be dressed up even more with beading and gems. A woman often wears the flower around her wrist for special occasions.
Boutonnieres usually consist of a single flower, which is complemented by minimal greenery. Men traditionally wear them pinned to the left side of their suit coat or shirt. However, it can be worn on either side.
At a wedding, corsages and boutonnieres are often worn by all important members of the wedding party, including parents and grandparents.
Who Buys the Corsage and Boutonniere?
The unwritten rule when purchasing a corsage or boutonniere is that the couple buys each other their flowers. On the day of the event, the couple will exchange by placing the corsage or boutonniere on one another. If you are apart of a wedding party, it's common for the bride and groom to distribute the corsages and boutonnieres.
Can I Choose Any Flower?
When choosing a flower, you should consider the color of your partner's outfit. You should always make sure that the flower you choose compliments the outfit that they are wearing. However, you don't necessarily have to match it exactly.
If you need a corsage or boutonniere for your next event, Dallas House of Flowers has you covered! Contact us today to place your order.