You're there. Staring down the mass amounts of flowers in front of you at the shop. Colors and scents all blending together to form this unbelievable wall of fragrance and fright; what flowers are you supposed to get someone that means so much?
Here's the gentleman's guide to florals; just what you need to earn major points with your special someone!
Choosing what flowers to give her
First, we suggest trying to recall what your significant other's favorite color is. This will at least give you a starting point. What would be even better is if she had a favorite flower, but let's not get ahead of ourselves.
Consider your relationship status
Seriously long-term
If you're planning on being in your current relationship for the long haul then you usually want to give flowers that represent that strong and passionate connection.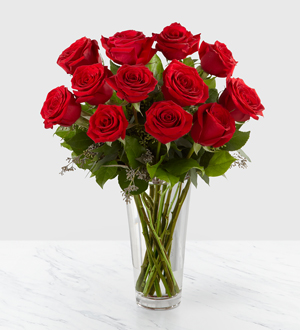 What better flower for passion and love is there than the red rose?
However, if it's been a few too many years of only red roses, think about switching it up a bit. This could mean different colored roses, or a different red flower. You could also mix it up by actually mixing it up: try to add a few unique touches to your bouquet of roses like asters, lilies or peonies, which are all considered lovely, romantic flowers.
You're still smitten
So you may not be going steady, but you like this girl and want to impress her?
The traditional choice would be to have a mix of flowers that includes a few roses, so that she knows you're interested.
But, if you're feeling like you want to step out-of-the-box, pick something like the Bird of Paradise (no, it's not an actual bird) or an orchid to add a wild side to your gesture.
You're just friends
No, seriously, you are actually just friends. That's perfect! Your female friends have definitely earned some flowers from you over the years and it's a great way to show them that they're appreciated.
Daisies and sunflowers are safe bets to give a friend. If other flowers are calling to you, we suggest sticking with bright yellows; the message of warmth and lighthearted fun comes from the color yellow and will certainly add a little joy to the day.
When should you buy flowers?
The answer to the question is: all the time!
Birthdays, anniversaries and other special moments in your relationship are shoo-in occasions where flowers have just become a part of the routine. Not that they aren't still very special, because they are, breathing a liveliness into the recipient's day and guaranteed to make them feel loved.
Flowers are truly a one-of-a-kind gift and you are steps away from being the ultimate gentleman. But we know that remembering all of the important occasions can be tough, so definitely use our flowers by occasion guide to keep you in good standing with your lady!
'Just because' flowers are your secret weapon
Who needs a special occasion to give your well-deserving lady a beautiful bouquet?
You know it'll brighten her day and make her feel special and that's all that matters! Take it from us, Valentine's Day and milestone celebrations like birthdays and anniversaries are when flowers are expected.
But a random, gorgeous bouquet of flowers for your 129th date, or on your way home from work one day will mean even more.
Why? Because it means you've been thinking about her—for no special reason other than the fact that you care about her. No events, no birthdays, just flowers to make her day that much better. And yes, women like flowers still and their reaction, we promise, will be priceless.
Hand delivery vs. sending flowers to her
So how do you plan on getting these flowers to your significant other, fiancé, wife, or crush?
You could either have them in hand yourself, waiting outside the door to surprise her with them upon arrival, or you could send them to her home or work.
Think about what your partner would want when making this decision. Some people will gladly welcome flowers at their place of work, but others may not like the spotlight in that particular setting.
Where should I buy the flowers?
That's easy, of course; buy them from Dallas House of Flowers!
We have flowers for any occasion and an expert team willing to lend a helping hand.
Give us a call at 1-800-873-0917 with any questions you may have, and we hope she likes her flowers!