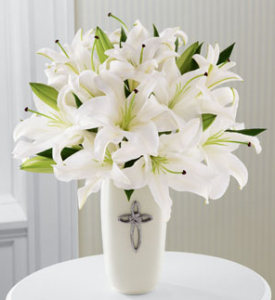 If you're like us, you're fascinated by the royal wedding and all things Harry and Meghan. You probably noticed the bride's gorgeous bouquet, and the stunning blooms on display at St. George's Chapel.
Here are a few fun facts about the royal wedding flowers that you might not have known:
Prince Harry hand-picked the flowers in the bridal bouquet himself, from the private garden at Kensington Palace. He chose some of his mother's favorite flowers to honor her. Princess Diana's favorite flowers were forget-me-nots, which were included in the bouquet along with sweet peas, jasmine, lilies of the valley and astrantia.
The bride's bouquet also contained a sprig of myrtle, which is a royal tradition dating back to the marriage of Princess Victoria, Queen Victoria's daughter. The myrtle symbolizes hope and love.
Another tradition that Meghan Markle followed was leaving her bouquet on the grave of the unknown warrior in Westminster Abbey following the ceremony. This one dates from 1923, when the Queen Mother left a bouquet there to commemorate her brother Fergus, who died in World War I.
Were you surprised by the lack of colorful blooms? Royal bouquets are typically all white.
After the wedding, the flowers were donated to a number of charities and hospices, such as St. Joseph's in East London. One of the residents there is 89-year-old Pauline Clayton, who worked on the embroidery for the Queen's wedding train when she was 19.
Want to display your own spin on some of the floral arrangements from the royal wedding? Browse the beautiful flowers we offer at Dallas House of Flowers. Call us toll-free at 1-800-873-0917 to learn more about our fit-for-a-princess blooms!