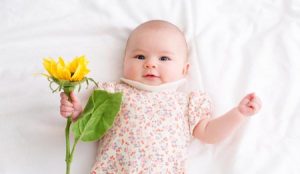 Watching a friend or loved one go along the pregnancy journey all the way to the birth of a new bundle of joy can be such an exciting time. Whether it's their first child or fifth, it's always a rewarding and heartwarming experience worth celebrating.
And statistically, you're more likely to be celebrating the birth of a child right now than any other time of year. According to the CDC, August is the most popular birth month of the year in the United States, with an average of more than 360,000 babies being welcomed. There's a good chance someone you know either recently gave birth or is about to soon. The perfect way to show them how excited you are for them is to bring or send them flowers. Your loved one deserves to be celebrated.
Show How Much You Care
The birthing process is rewarding, but also incredibly difficult and scary, especially the first time around. Now that your friend or loved one has reached the end of the journey and has a healthy baby, it's time to celebrate. Show them how much you care by getting them a nice bouquet of flowers. Much like the new baby, they'll add beauty and love to the home.
Flowers That Go Well with a New Baby
Of course, the flowers are for the parents, not the baby. But you should still stick with the new baby theme. Many people choose a bright and colorful bouquet to symbolize the vibrancy that's been added to the parents' lives. Roses are a popular choice in this circumstance as well. Many florists will have themed bouquet options available, some even decorated for the gender of the baby.
Dallas House of Flowers
If you're looking to send a bouquet of flowers to celebrate the birth of a loved one's baby, Dallas House of Flowers is the place to go. We have a variety of baby-themed bouquets at reasonable prices. Visit our website or contact us to learn more.