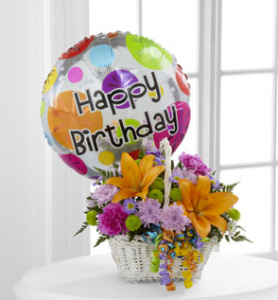 Flowers aren't just for romance—they also make great birthday gifts for friends! Show a friend how much you care on his or her special day by gifting a beautiful, fresh bouquet of birthday flowers.
Here are a few of our favorite birthday flowers to send to friends:
Roses
Yes, roses can also mean friendship. But steer clear of pink and red, which connote romance, and buy birthday roses in bright, joyful shades of yellow and orange to remind your friend of all the fun times you have had together.
Chrysanthemum
Particularly if your friend is going through a tough time on his or her birthday, chrysanthemums are a great way to show support. By gifting this flower, you're telling your friend you'll always be there.
Alstroemeria
These flowers look like miniature lilies and are commonly regarded as a symbol of devoted friendship. They're sure to make anyone's birthday feel special.
Iris
This beautiful blue and yellow bloom symbolizes faith, trust and friendship. Because they bloom in the spring, irises also signify renewal, making them a great choice for a recently rekindled friendship.
Pick any of the above flowers, or go for a mixed bouquet featuring several of them! Whichever birthday flowers you choose, make sure to include a warm, thoughtful note. Not sure which flowers signify which birthday months? Check out our birthday month flowers guide!
Dallas House of Flowers is your go-to source for birthday flowers for any style or budget. You can also call us toll-free at 1-800-873-0917 to find out how we can help you brighten your friend's day with birthday flowers!